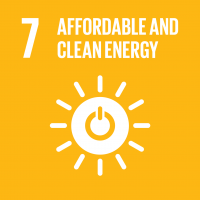 Ensure access to affordable, reliable, sustainable and modern energy for all
Affordable and clean energy
On this page we highlight key contributions from Springer Nature's authors to help readers make sense of developments in energy research and how they can address the great challenges posed by SDG7 – to ensure that the world has access to affordable and reliable energy while protecting the future of its environment.
Read More »

Affordable and clean energy
In a cross industry collaboration this new platform is a new initiative to help broaden the discovery and understanding of climate change research — and accelerate its application towards a sustainable future. Research articles have been summarized into layperson articles and available free for everyone to explore the research stories or try searching for topics such as rising sea level, carbon offset, environmental campaigning or pollution.
Read More »

Affordable and clean energy
RE100, led by The Climate Group in partnership with CDP, aims to accelerate a global shift to clean energy and zero carbon grids. The project encourages companies to make a commitment to go '100 percent renewable'. Within the publishing industry, this includes RELX and Pearson, the world's largest education company.
Read More »